Skip to Content
Hair and Scalp Conditions and Treatments
Trichology deals with the study of the hair and scalp, including the structure, function, and diseases and problems that can affect human hair and scalp. The trichologist also studies the treatments for these various conditions and the effectiveness of them. The trichologist than uses this valuable information to advise and/or treat the patient's conditions. These problems include the many different types of hair loss and thinning hair, scaling conditions like dandruff or psoriasis, oily or dry scalp problems, and hair breakage or damage, and growth issues. More and more people are experiencing various types and extents of scalp inflammation, which can contribute dysesthesia, discomfort, dandruff and even hair loss.
Freedom Clinic uses the Capilia Line of Products for it's in-clinic Trichology Treatments. These treatments, along with a home care regimen, are designed to help control the symptoms of various hair and scalp conditions. Capilia products contain 100% natural active ingredients, so no drugs or chemicals are used to treat these scalp conditions. Treatments and product recommendations may be combined with other protocols to increase effectiveness as required.
A scalp analysis is usually required prior to starting any treatment in order to confirm the patient's condition or diagnosis. Please contact us to schedule your initial consultation and scalp analysis.
Freedom Clinic offers in-clinic trichological hair and scalp treatments for most hair and scalp conditions including:
Residue On The Scalp, Psoriasis, Seborrheic Dermatitis; Generalized Scalp Inflammation; Scalp Dysesthesia – itching, burning, pain, sensitivity; Eczema; Androgenetic Alopecia in Men (Pattern Hair Loss); Androgenetic Alopecia in Women; Telogen Effluvium; Seasonal Shedding; Dandruff; Dry or Oily Scalps; Pre-Transplant and Post Transplant Care; Hair Shaft and Growth Issues; Dry and Damaged Hair; Pre and Post Pregnancy Treatments; Post Chemo Treatment.
You can also shop our store for products specifically designed for most of these scalp conditions. We recommend and use the Capilia line of All-Natural hair and scalp care products for our treatments and home care regimes:
SHOP NOW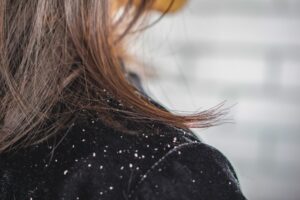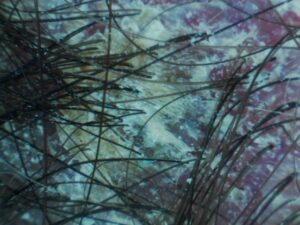 DO YOU EXPERIENCE SCALP PAIN, ITCH, REDNESS, OR GENERAL SENSITIVITY?
Scalp Inflammation and Dysesthesia is a common affliction that can contribute to many scalp conditions. Scalp inflammation can be caused by a number of triggers. Often, the cause is autoimmune related, where your immune system does not like some presence on your scalp. It can also be caused by overexposure to hair coloring chemicals, unhealthy eating habits, as well as many other factors. Scalp inflammation can be associated with scalp dysesthesia, where the patient experiences mild or severe pain, burning, itching or general scalp sensitivity. While the exact cause of dysesthesia is often difficult to locate, effective treatments are available to help control the symptoms. Often it is simply due to a build up of oily residues on the scalp.

Dandruff Can be Visually Unpleasant and Itchy.
Your scalp's epidermal stem cells are constantly being renewed. However, when this process is sped up, it can cause a common condition known as dandruff. Dandruff can be either dry or oily. Dry dandruff appears on a dry scalp and detaches easily to noticeably land on your hair or clothing, while oily dandruff is usually voluminous and sticky with a noticeable yellowish hue. Aside from being aesthetically unpleasant, dandruff can also be itchy and contribute to other scalp ailments. With proper treatments and the right scalp care products, dandruff can be easily controlled.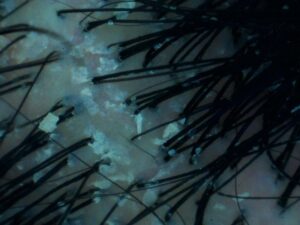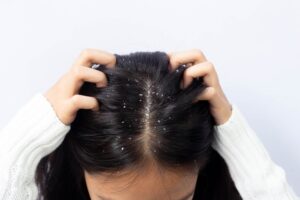 Seborrheic Dermatitis and Psoriasis Can Cause Thick Scales and Painful Irritation
Seborrheic dermatitis and psoriasis are closely related. Both are inflammatory conditions related to the auto-immune system. Your scalp is always renewing itself at the cellular level. When an individual has psoriasis, the cellular cycle operates about 10 times faster than normal, producing flakes that are thick, white and dry/scaly. Symptoms of psoriasis include constant itching and red patches around the face or other parts of the body. While there isn't a cure for psoriasis, FreedomClinic offers treatments and product protocols that can significantly improve the symptoms of psoriasis and seborrheic dermatitis.

Hair Shaft and Growth Issues, Dry or Damaged Hair Robs Hair of Its Healthy Look and Shine
Is your hair dull or brittle? Do you have noticeable split ends? Does your hair growth seem slow or not able to grow long? These conditions are sometimes caused by internal imbalances, but can also result from aggressive environmental conditions, and overexposure to harsh chemical treatments that cause brittle hair or damage the scalp. Treatments focus on restoring the hairs natural growth cycle as well as repairing the hair shafts. Often what appears to be hair breakage is actually regrowth after a type of hair loss called Telogen Effluvium. A hair and scalp analysis can help determine the cause and appropriate treatment.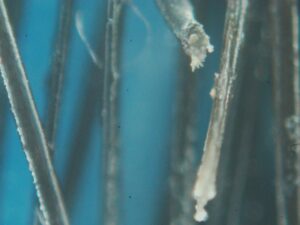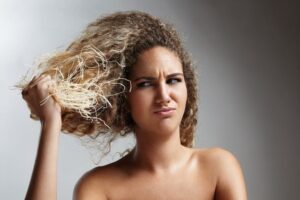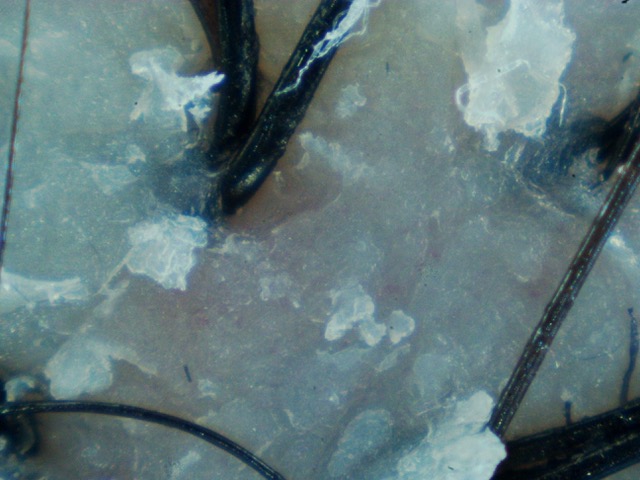 Dry or Oily Hair and Scalp Can Affect Men and Women of All Ages
One of the biggest hair-related concerns affecting the majority of the population is a dry or oily scalp. Dry scalp occurs when your hair's sebaceous glands fail to release a substance called sebum, which is responsible for protecting and lubricating your hair and scalp. Oily scalp occurs when your hair's sebaceous glands produce too much sebum. Many factors can trigger these issues, including hormonal changes, specific medical conditions, over-usage of certain hair products, a high-fat diet lacking in vitamins, intoxication, and stress. The symptoms of your condition will impact the suggested method of treatment. For oily scalps, FREEDOMclinic usually recommends using products featuring 100% natural ingredients like camphor, eucalyptus oil, and Chinese mint. For dry scalps, we typically recommend using products featuring 100% natural ingredients like hydrolyzed cornstarch, B5 pro-vitamins, and calendula oil for deep hydration.
Are You Experiencing Unexplained Hair Loss, Thinning Hair, Increased Hair fall or Shedding?
The causes of hair loss and many and varied. Sometimes the hair loss can be a normal part of aging or seasonal changes. However, often the hair loss is the result of something more concerning. FreedomClinic is very empathetic and caring when dealing with patients with hair loss. Hair Loss can seriously affect a person's mental health and sense of well-being. FreedomClinic Takes the time to understand your concerns and properly diagnose your hair loss. We offer several treatments for hair loss. Please see types of Hair Loss page for more information on the different types of hair loss:

*All Photos Copyright and protected*
Get Relief with a Trichology Consultation Today
If you suffer from dry or oily scalp, brittle or dull hair, dandruff, psoriasis or eczema, FREEDOMclinic can help. Please contact us today to schedule a trichology consultation in the Greater Toronto Area.
Hair, Skin, And Scalp Concerns? FREEDOMclinic Has The Solutions