Skip to Content
Your Experts for Scalp Micropigmentation in Toronto, CAN
Regain Your Confidence with the Help of SMP Treatment
If you suffer from hair loss, every day can feel like a battle with your self-esteem. Losing hair can take a significant toll on your self-image. Luckily, there's a solution to minimize the appearance of your hair loss and give you back the confidence and youthfulness you once had. FREEDOMclinic offers a game-changing hair loss solution called scalp micropigmentation in Toronto. This non-invasive procedure effectively disguises hair loss using a process similar to tattooing. SMP patients see results immediately after their initial treatment. If you're ready to learn more about this incredible procedure, contact FREEDOMclinic today. We'll start with a consultation where we'll discuss your goals and personalized treatment plan. Give us a call to set up a time to speak with us!
What Is Scalp Micropigmentation?
Scalp micropigmentation (SMP) is an advanced cosmetic hair loss treatment that uses methods similar to the art of tattooing to create small dots the size of hair follicles. These dots are designed to replicate the appearance of natural hair where you are experiencing loss. While the process does use a procedure similar to tattooing, it's important to note these two methods are very different, and SMP requires the skill of a specifically trained SMP artist. Traditional tattooing uses larger equipment and inking implements that if used when attempting scalp micropigmentation would result in an unnatural outcome. SMP, when done correctly, uses inking implements specially designed for the procedure, resulting in a look so natural your mother couldn't tell the difference. Trust the specially trained SMP artists at our location in Toronto, CAN to achieve optimal results. This process can produce results for both men and women, so be sure to ask about SMP when you are searching for effective and efficient hair loss treatments!
What Hair Loss Issues Can Scalp Micropigmentation Address
If you've been searching for a natural hair loss solution, you've found the right one in scalp micropigmentation at FREEDOMclinic. Scalp micropigmentation is the best options for your hair loss solution and can be used to improve the appearance of many hair loss types:
Alopecia Areata and Totalis
Male Pattern Baldness (AGA)
Female Pattern Hair Loss (AGA)
Scars due to injuries or Hair Transplants
Poor Results from Hair Transplants
Fine or Thinning Hair
Trichotillomania
Scarring Alopecias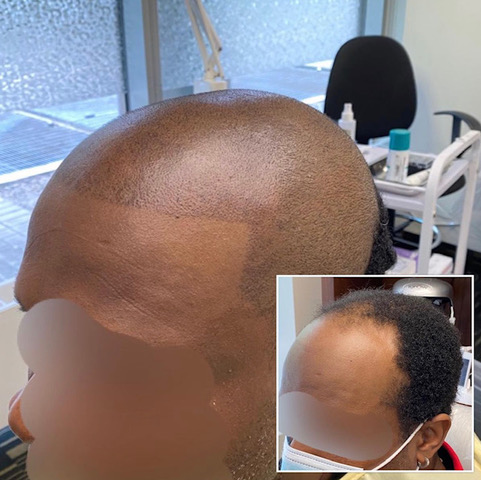 The Scalp Micropigmentation Treatment Plan
The scalp micropigmentation process is relatively simple and usually can be completed in three sessions,  quickly achieving the look you want. Below is the basic treatment plan for most SMP treatments to give you an idea of how the FREEDOMclinic program works:
Initial consultation: We'll start with a consultation. While we prefer to do this in-person, we can also do them via video chat. We need to get a good look at your current hair to evaluate your situation, and prefer to do a microscopic scalp analysis to rule out any issues with the process. We'll explain the process in detail and answer any questions and concerns you may have. We'll discuss the results you hope to achieve, illustrate your new hair line if appropriate, and provide many examples of our work that can compare to your requirements.
First session: During your first SMP session, the entire area to be treated will be completed, although at half density. This step builds the foundation for your new look. You will see the results right away, although they will not be as dark as the second session which will take place normally within one week. Your scalp maybe a little red at first, but this should subside within a day.
Second session: The second session, as mentioned, takes place within a week and usually requires about the same amount of time as the first, as the entire area will again be treated in order to double the density of the dots, darkening the treatment to match your existing hair around the sides and back.
Third session: The third session takes place about 3 weeks after the second. This is normally a touch-up session, where any light areas are filled in and any dots that have shedded replaced. It usually lasts only 1 to 1.5 hours.
SMP Treatment Strategies
There are many types of treatment strategies available with scalp micropigmentation, and we'll help you choose which is best for you depending on your situation. We offer the following:
Soft, natural hairline: In this option, we produce a soft natural hairline, layering impressions as we near the front to create a realistic result, with a soft gradual fade to front edge of the hairline. Filling in the temples is optional, depending on the fullness or recession you desire. Alternatively, bold hairlines are also an option. In this case, your hair will look like a full head of hair without any recession or hair loss.
Addition of density: This type of treatment is popular among both men and women with thinning hair resulting in the scalp showing. We use our advanced skills to fill in these areas to improve the appearance of hair density. Our Ultra High-Density technique gives the fullest appearance possible using this technique in the shortest amount of time.
Treatment for women: Our skilled staff can produce amazing results in women who have developed natural separations or suffer from thinning hair. We create an underlying effect which gives the appearance of full and healthy hair.
Improvement of hair transplants: Whether using the FUE or FUT technique, Hair transplants can leave scars along the back of your scalp. We can use scalp micropigmentation to disguise these scars effectively, allowing you to maintain a short hair style if desired. Further, scalp micropigmentation can enhance the results of hair transplants, by improving the density in the transplanted areas, or filling in areas that remain thin.
In combination with hair transplants: With proper pre-planning, hair transplants and scalp micropigmentation can work very well together to give you the results you want. This option gives you the best of both worlds! Transplants provide the texture of real hair, while SMP gives you the appearance of fullness and thickness using our advanced high density technique.
Reach Out Today to Plan Your FREEDOMclinic Consultation!
Are you ready to achieve the look of thicker, fuller, natural hair? Now is the time to call FREEDOMclinic in Toronto, CAN about scalp micropigmentation. Our expert team will evaluate your situation, desired results, and formulate a plan to achieve them. Call us today to plan a consultation with our expert team!
Hair, Skin, And Scalp Concerns? FREEDOMclinic Has The Solutions