Skip to Content
Medical Esthetic Services
Freedom offers a wide range of specialized non-surgical skin and body treatment services. Whether you would like to fix imperfections in your skin, get rid of unwanted body hair or cellulite, or simply relax and let go of your stress, we have a treatment that is right for you.
Please click on the area that interests you.
The Freedom Facial
This brand new facial is a 100% customizable facial , during your facial your aesthetician will give you an in-depth skin analysis and choose from a variety of treatments and products that will treat your skin concerns.
Your aesthetician will choose from micro dermabrasion, derma planing, chemical peels and the use of a appropriate modality, either an ultrasonic blade ( uses high frequency mechanical vibration waves to penetrate product deeper in the skin or to cleanse the skin further) or RF/EMS instrument (which uses electrical muscle stimulation to improve skin elasticity and collagen production, mesoporation which is transdermal skin delivery, electroporation which transports hyaluronic acid deeper in the skin, LED light therapy and more!! ).
The Freedom Facelift
This facial is the closest thing to a face lift without any downtime! this facial includes a thorough cleansing and chemical peel, a long deep treatment using our RF/EMS handheld that tightens muscles, stimulates collagen production, uses red LED light therapy and aids in product penetration! finish off by moisturizing the skin using our premium anti aging products that focuses on targeting the causes of premature aging and hydrating/plumping skin.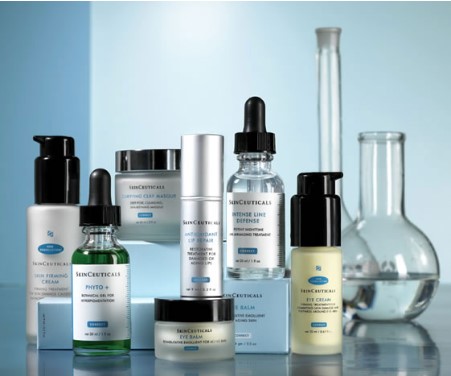 SkinCeuticals
SkinCeuticals is a medical skin care brand born from years of scientific research and studies. SkinCeuticals formulations are based on optimal concentrations of active ingredients elegantly crafted into functional products for professional and home use.
SkinCeuticals products are clinically proven to perform on their own, but they are also designed to work synergistically with each other – and deliver even greater results when used as part of a customized regimen. At Freedom Clinic we are extensively trained to create skincare routines that address the unique conditions and challenges of each individuals skin and optimize its health and appearance.
EyEnvy
EyEnvy is a eyelash growth serum made from a combination of vitamins and strengthening peptides. This revolutionary formula helps improve the growth of your eyelashes and eyebrows by prompting healthy, stronger lashes!
Hair, Skin, And Scalp Concerns? Freedom Clinic Has The Solutions