Skip to Content
Treatment for Vascular or Pigmented Lesions and Age Spots
Achieve Clear, Radiant, and Beautiful Skin
Skin lesions don't have to be left untreated. With the highest quality medical technology, we at FREEDOMclinic Toronto have various methods for treating and curing different skin conditions that can seriously affect our sense of well-being.
What Are Vascular or Pigmented Lesions?
Vascular and pigmented lesions are common and can happen to anyone at any age. These skin abnormalities include broken vessels, facial veins, rosacea, skin tags, freckles, brown spots, and age spots. At FREEDOMclinic Toronto, our goal is your satisfaction with our care, and your results. We prioritize customer satisfaction, and our team is here to ensure you have the best care possible. We carry the highest quality medical technology to treat vascular and pigmented lesions.
Types of Vascular and Pigmented Lesions
Telangiectasia, Broken capillaries, or Poikiloderma: Commonly known as "spider veins," this condition occurs when broken blood vessels appear near the skin's surface or mucous membranes. They can be identified by their pink or red color and often revert to white color when pressure is put on them.
Erythema: This is a skin condition caused by capillary congestion, leading to extreme red blotches on the skin. Symptoms of it include redness, rashes, swelling, and sensitivity.
Rosacea: Rosy skin is not always welcome. Rosacea is a condition in which there is abnormal flushing or blushing of the skin. Sometimes this includes small white bumps as well. This condition is common on the face and has flare-ups from time to time. It is common in people over the age of 30 and occasionally can affect the eyes or nose.
Dyschromia or Mottled Pigmentation: When skin cells produce a pigment called melanin, skin can become discolored. This is usually a cosmetic condition. Causes include uneven application of sunscreen, moles, suntan or burn, minor skin infections, and vitiligo.
Solar lentigos: Excessive UV radiation can cause patches of darkened skin anywhere on the body. They range from oval, round, or irregular shapes to different sizes. Some solar lentigos can become scaly if left untreated. They occur in sun-prone areas such as the back of the hands or face.
Melasma: Most common in women, melasma is a condition that darkens spots on the skin. It often begins during pregnancy, and some women have reported receding after stopping birth control pills or having their child. The condition presents as tan, brown, gray-brown, or blue-gray patches.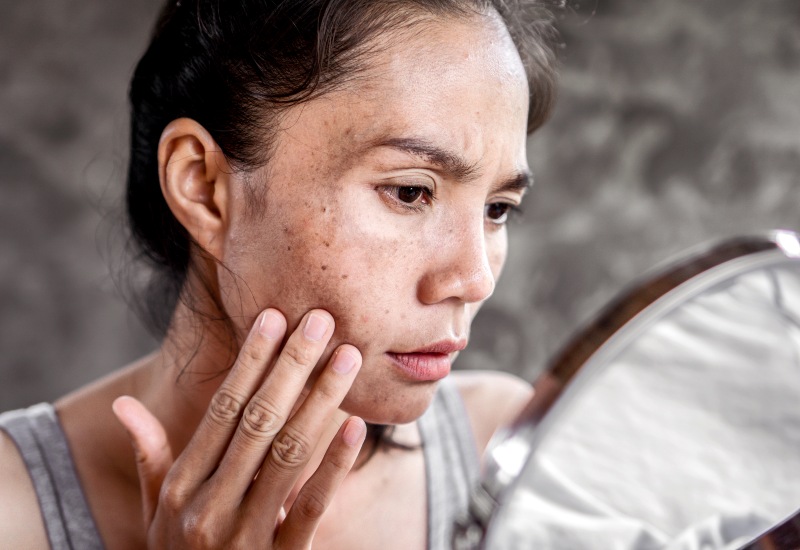 Treatment of Vascular and Pigmented Lesions
FREEDOMclinic Toronto uses SharpLight, a non-invasive medical-aesthetic system to effectively treat a vast range of vascular and pigmented lesions, including the ones listed above. By exposing the skin to quick bursts of light, SharpLight Treatment can gradually wane any lesions you may have. SharpLight provides heat to the dermal layer of the skin, tightening it and stimulating it to create new collagen fibers. This technology has groundbreaking medical advancements, such as reaching deeper into the skin layers and powerful lasers that deliver high wavelengths of heat. It treats skin lesions and is also known for its successful treatment of cellulite reduction, acne, tattoo removal, and hair removal. This fast-tracked skin healing process has been around since 2004 and has only gained experience and evolved into the highest quality medical equipment in the field.
Contact FREEDOMclinic Toronto Today
With over 40 years of experience, we have renowned doctors available at your disposal. We pride ourselves on giving our patients the freedom to choose the skin treatment that best fits their needs. We carry specialized non-surgical treatments to make your experience comfortable and non-invasive. Contact us today to schedule a consultation with one of our renowned practitioners. We look forward to serving you!
Hair, Skin, And Scalp Concerns? FREEDOMclinic Has The Solutions